It Sounds Like SNL May No Longer Be Pete Davidson's Top Priority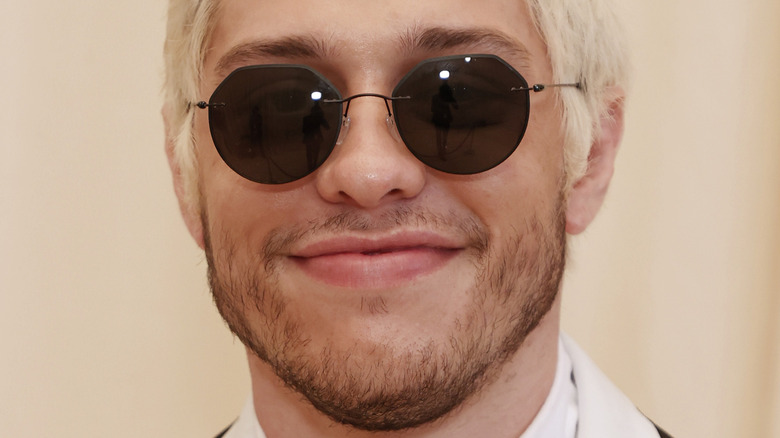 Arturo Holmes/mg21/Getty Images
Pete Davidson's association with "Saturday Night Live" has made him a mega star. According to NBC, Davidson became the first "SNL" cast member born in the 1990s. The stand-up comedian and screenwriter has been dating Kim Kardashian since October 2021, following her split with Kanye West. Things kicked off between the two back in 2019, when Kardashian and West went out for dinner with Davidson and Timmy Chalamet to celebrate Kid Cudi's birthday. Davidson later told Jimmy Fallon that he got stuck paying the dinner bill, while adding that West and Kardashian were "the cutest couple ever." Fast-forward to October 2021. Kardashian was a host at "SNL," and she kissed Davidson during a Jasmine and Aladdin sketch.
In November, a source told Page Six that Kardashian was "intrigued" by Davidson and "likes him." The outlet reported that Kardashian flew to New York City to meet Davidson. Another source told E! News, "Kim thinks Pete's hilarious. Pete is quite the charmer, and she totally understands the allure. Kim loves that they just laugh the entire time they are together, and she is really enjoying hanging out with him."
Kardashian and Davidson seem to have great chemistry, but as the two spend more time together and make their romance public, Davidson's been missing out on something that's also been quite important to him and his career.
Pete Davidson has been acting like a 'diva' and missing SNL rehearsals
Albert L. Ortega/Getty Images
Pete Davidson seems to be sidelining his career amid his budding romance with Kim Kardashian. A source close to the "SNL" cast told The Sun that the comedian has started to annoy his colleagues at the show. "Pete has become a total diva at SNL," the source said. "He missed the first few days of rehearsal last week and was still allowed to be in Saturday's show."
The source added, "He missed the first few days of rehearsal last week and was still allowed to be in Saturday's show. Normally, if you miss any rehearsals, you are out of the show on Saturday night, and the cast is starting to turn on him." Missing the show's rehearsals hasn't been the only concern. The source revealed that Davidson now has security outside the building. "Colin [Jost] married an actual movie star [Scarlett Johansson], and yet Pete is getting more attention," they added.
Meanwhile, the news of Davidson and Kardashian getting together isn't going too well for Kanye West. The "Heartless" rapper released a track earlier this month where he threatened Davidson. "God saved me from that crash / Just so I can beat Pete Davidson's ass," West rapped. Davidson, however, doesn't seem to take the threat seriously. "Pete thinks it's totally hilarious," an insider told Page Six. "Not just that — he thinks the whole [tabloid drama with him, West and Kardashian] is hilarious. He loves it."