Is The Queen Really Selling A Perfume For Dogs?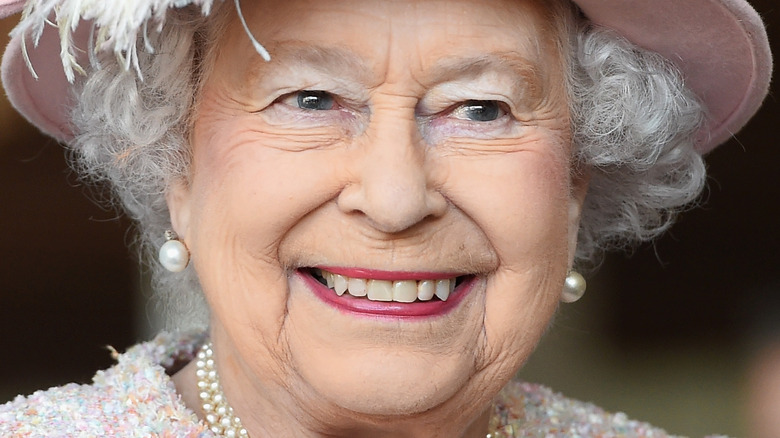 Stuart C. Wilson/Getty Images
The British royal family has always made headlines, but the drama surrounding many of its members appears to have grown in recent months. Since the start of 2022 alone, Prince Charles has been hit with a second COVID-19 diagnosis, Queen Elizabeth's health has been an ongoing cause for concern (although she's returned to work), and Prince Andrew has been thrust into the spotlight after being accused of sexual assualt by Virginia Giuffre (they reached an out-of-court settlement on February 15). That's not all, however. Prince William's pretty spotless popularity was marred by cheating allegations back in 2020; we learned that Camilla Parker Bowles' relationship with Meghan Markle was reportedly anything but merry; and we discovered that Prince William and Prince Harry's relationship appears to be unraveling further.
It seems the royals have been shrouded in a net of negativity that they just can't seem to escape, but there have also been lighter moments to smile about. Most recently, Elizabeth's Platinum Jubilee celebrations. The occasion will be marked with year-long festivities and it was kicked off with a sweet message to the British people along with a beautiful yet subtle tribute to the late Prince Philip. It's sure to bring a smile to your lips, as is the fact that the monarch is said to be launching an unlikely product that'll leave pooches around the globe smelling like royalty.
The Queen is reportedly launching a perfume... for dogs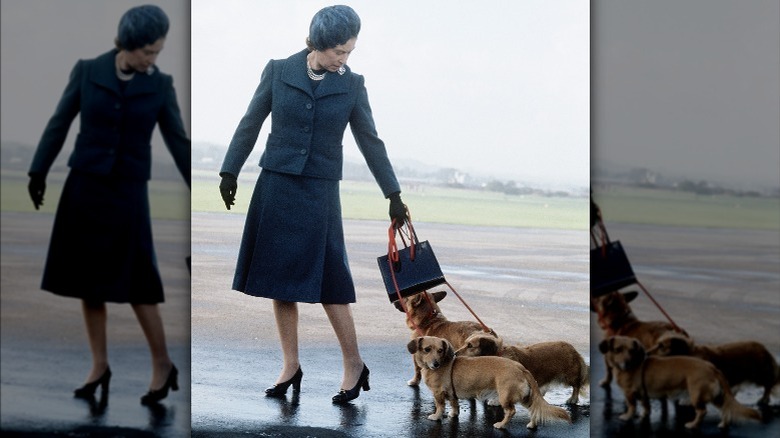 Anwar Hussein/Getty Images
The queen's love of dogs is no secret. She's had over 30 corgis and dorgis in her lifetime and even after reports surfaced in 2015 that she wouldn't add any new pups, things changed during lockdown. In March 2021, she was gifted two new doggos to keep her company as she quarantined at Windsor Castle. One died unexpectedly that May, leaving her with two furry companions. Now, she's taking her passion for pooches up a notch by launching a perfume... for dogs. 
That's right: England's monarch has reportedly given the stamp of approval to the Happy Hounds Dog Cologne, set to retail for just £9.99 (about $13.50). Unfortunately, you'll need to travel to get it. The cologne will be available exclusively at Sandringham Estate's gift shop. According to The Sun, the "long-lasting" scent is "unisex" and can be spritzed on both "male and female dogs" after washing. It promises to leave behind "a rich, musky scent with citrus notes of bergamot" that's reminiscent of "coastal walks."
Located in Norfolk, England, Sandringham Estate is the "much-loved country retreat of Her Majesty the Queen" and it appears to have a tradition of catering to visitors' four-legged friends. The gift shop is already stocked with the Sandringham Happy Hound Gift Box aka "the ideal present for dog lovers and their furry friends." It retails for £45 (around $60) and includes "delicious handmade dog treats," a tweed toy, treats, and a "special dog shampoo" in the same "Coastal Walks" scent. A gift fit for a queen!