Kourtney Kardashian Got Some Extremely NSFW Advice About Fertility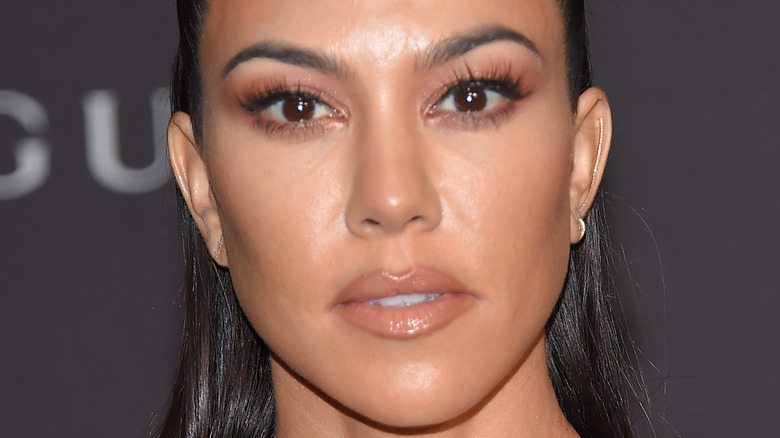 DFree/Shutterstock
Kourtney Kardashian and Travis Barker have had what seems like a whirlwind romance. While the pair was friends for years, they officially started dating in early 2021, per Us Weekly. Not too long after, Barker popped the question in an intimate beach proposal. The couple had a few weddings, though some more official than others. In April, Kardashian and Barker tied the knot in Las Vegas following the Grammy Awards, but it wasn't truly official since they didn't get a license.
In May, the pair made things officially official by tying the knot at a courthouse in Santa Monica, per Us Weekly. They kept the ceremony small and intimate, with only a few bodyguards, Barker's dad, and Kardashian's beloved grandmother in attendance. But like most of the family's bashes, the couple made their third wedding super memorable by celebrating with the Kardashians and co. in Italy. And the only thing that people had to complain about was the tiny pasta portions.
As fans of the famous couple know, Kardashian and Barker have been planning to expand their family, and a lot of their fertility journey has played out on the freshman season of the Hulu show "The Kardashians." In an early May episode of the series, the couple celebrated a milestone in their fertility journey. "We are super excited because it's the first time we have made it to an egg retrieval in six months of doing fertility treatments," Kardashian shared, per People. In another episode, a doctor gave her some pretty wild advice.
A doctor wants Kourtney Kardashian to drink something unexpected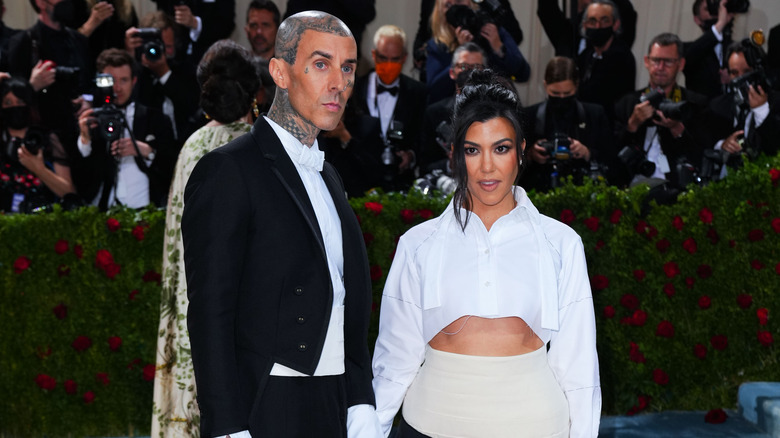 Gotham/Getty Images
When it comes to the Kardashians, there are few topics that are off-limits. In a May episode of the family's hit Hulu show, Kourtney Kardashian and Travis Barker gave fans a glimpse into their fertility journey. According to E! News, the eldest Kardashian sister met with Martha Soffer, an expert in Ayurvedic, and discussed some pains she was having. The doctor oddly suggested that Kardashian drink Barker's semen to help. "I can't remember what he said, if it was low or high," the reality star said in the episode. "But he told us, well, he told me, that the thing that would help it was drinking [Travis'] come, like, four times a week."
Barker seemed to dig the advice and made sure to tell Kardashian that he loves "this doctor." However, Kardashian opted out of drinking the special concoction and instead did a cleanse that Soffer recommended, since her egg retrieval was unsuccessful. Kardashian revealed that the purpose of the cleanse was to "get all of the toxins that are deep within our tissue out of our bodies [to have] better-quality eggs." Who knew?
It's no secret that Kardashian and Barker have their hands full with their now-blended family. Kardashian shares three children with ex Scott Disick, while Barker shares Alabama and Landon with ex- Shanna Moakler, per Cosmopolitan. Barker also helped raise a stepdaughter, Atiana De La Hoya, and he is pretty close with her.