How Kevin Federline Really Feels About Sam Asghari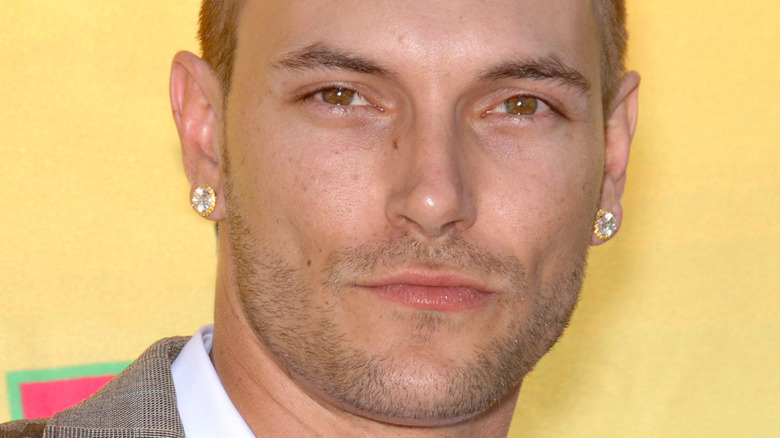 Featureflash Photo Agency/Shutterstock
When it comes to the men in Britney Spears' life, they haven't always gotten along. After all, the pop star's recent wedding to Sam Asghari was crashed by none other than Jason Alexander, her 55-hour ex-husband from 2004. Then, in the midst of the #FreeBritney saga in 2021, Asghari posted a scathing message about Spears' father Jamie on his Instagram Story: "I have zero respect for someone trying to control our relationship and constantly throwing obstacles our way. In my opinion Jamie is a total d**k." It doesn't sound like they've patched things up, as the entire Spears family was absent from the wedding.
However, the issues between Spears' father, husband, and past partners go back much further. Easily the most contentious of her relationships, no era of the Princess of Pop's romantic life created more drama and discussion than her time with Kevin Federline. Dubbed "K-Fed" by the tabloids, the panel of "The View" even showered their audience with confetti when the couple finally broke up. Many speculated Federline was using Spears to raise his own profile, as he was originally her backup dancer and later ended up releasing his own music. While they divorced after two years, the former couple still co-parents their two teenage sons, Sean and Jayden.
Considering how Spears' first husband reacted to her wedding, some fans might wonder what Federline thinks of Sam Asghari.
Kevin Federline is happy for Britney Spears and Sam Asghari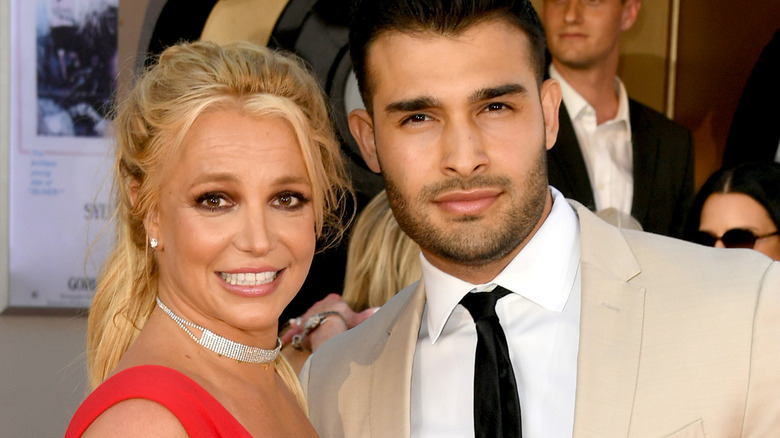 Kevin Winter/Getty Images
Compared to Britney Spears' first husband Jason Alexander, Kevin Federline is taking the news of her marriage much better. Not only did he refrain from crashing the ceremony, but in September 2021 he released a statement about Spears' and Asghari's engagement. Federline's lawyer Mark Kaplan told ET, "Kevin is very happy for Britney and wishes both she and Sam a happy and full future together. It would seem to indicate that positive things are going forward for her as she takes more control of her life."
Federline previously spoke out in support of Spears ending her conservatorship. Whatever toxicity the former couple might have had, it's clearly in the past as they focus on raising their sons. While neither Sean nor Jayden attended the wedding, their absence reportedly had nothing to do with Federline and was a decision they made on their own.
Nevertheless, despite staying home from the nuptials, Spears' sons still approve of Asghari. In a 2020 Instagram Live, Jayden said, "I like Sam, he's good, he's nice. He's a really good dude." Given how his sons speak of Asghari, Kevin Federline seemingly has no ill feelings toward him or Spears. Those child support payments probably aren't hurting either!
Kevin Federline will be neighbors with the newlyweds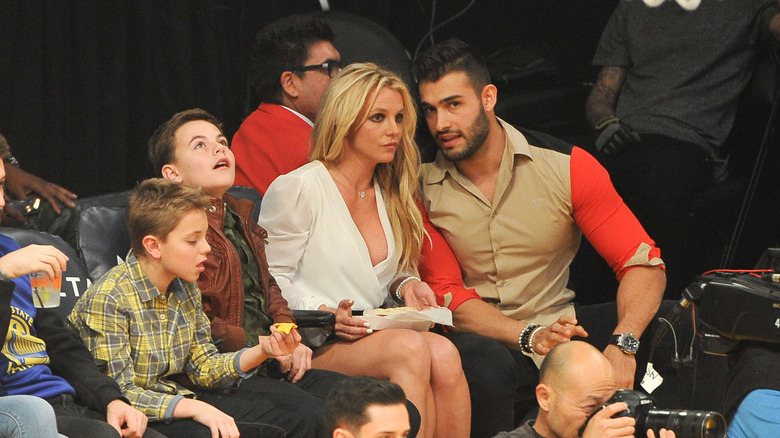 Allen Berezovsky/Getty Images
Even though he didn't attend the wedding, Kevin Federline will soon be seeing more of Britney Spears and Sam Asghari as a married couple. They recently bought an $11.8 million house in Calabasas, California in the same neighborhood as Federline. A source told ET, "Kevin was surprised that in all of California, all the homes for sale, and all of the gated communities that are available, that Britney and Sam decided to choose the same one that Kevin lives in. As long as their move doesn't invite paparazzi and a free for all, more power to her."
Living in such close proximity will most likely help their kids, who as of 2019 spend 70% of their time with Federline and the other 30 with Spears. According to TMZ, other stars living in the neighborhood include fellow newlyweds Kourtney Kardashian and Travis Barker.
Overall, it seems like Federline's main concern these days is making sure his sons are happy. Their mother's own happiness helps with that, so unsurprisingly he's all for Asghari.