Aaron Carter Reveals Jaw-Dropping Transformation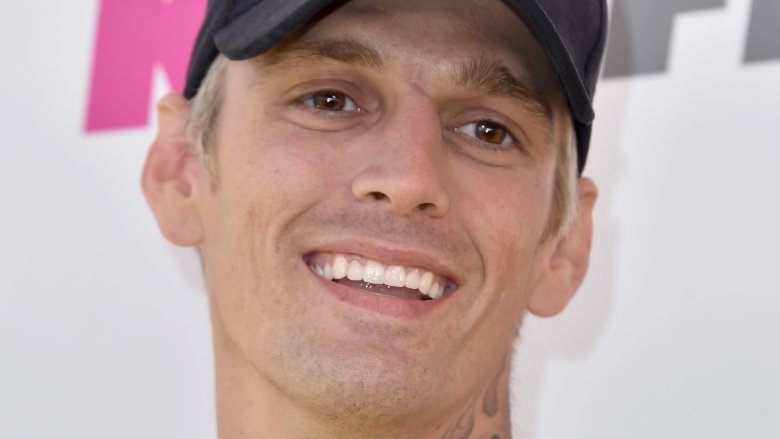 Getty Images
The former child star is making progress toward a healthier lifestyle.
On Friday, Nov. 10, 2017, Aaron Carter showed off a fuller figure on social media, a sharp contrast to his previous skin-and-bones appearance. Sharing side-by-side photos of himself on Instagram, the 29-year-old, debuting a new green 'do, revealed that he'd gained 45 lbs. since entering rehab. "This is my before and after pics," he wrote. "I went from 115 to 160 pounds in two months I feel amazing."
Carter continued, "2018 I'm ready for you!! My new Music is on its way!"
Following an appearance on The Doctors, during which concern was raised regarding Carter's prescription drug usage, the "Sooner or Later" singer voluntarily entered rehab in September. At the time, his rep told Page Six, "Aaron has decided to enter a facility to improve his health and work on his overall wellness. He is going to do this privately and focus all his attention on being the best person and performer possible. He is grateful for the support and love from his fans and looks forward to coming back stronger than ever before."
He later left the treatment facility to reportedly deal with "several legal and personal matters."
However, Carter, who'd previously blamed his thin figure on a hiatal hernia, soon proved he was serious about his recovery when he returned to the rehab center one week later. And it's clear from his social media posts alone that Carter's learned a lot during his time in rehab.
"Only I can change my life. No one can do it for me," Carter tweeted in late September. Later, he noted, "You need to learn to accept yourself before anybody else will accept you."
Wise words.
Carter's had a particularly difficult year. After his father passed away in May, Carter was arrested for marijuana possession and an alleged DUI in July. The incident sparked both online bullying and a public feud with his older brother Nick, who Carter accused of using him for PR.
Then, in August, Carter revealed that he is bisexual, which, apparently, didn't sit well with his girlfriend Madison Parker. The two broke up shortly after Carter's announcement, despite Carter previously stating that he'd intended to marry her. And, as if all that wasn't bad enough, Carter was later involved in a car accident, which resulted in a totaled car and a series of welfare checks from the police.
Fortunately, Carter appears to be on the mend, and, hopefully, he'll be able to leave his painful year behind him.
While we wait to learn more about Carter's time in rehab, read up on exactly what he's been up to in recent years.