The True Story Behind Kamala Harris' Inauguration Escort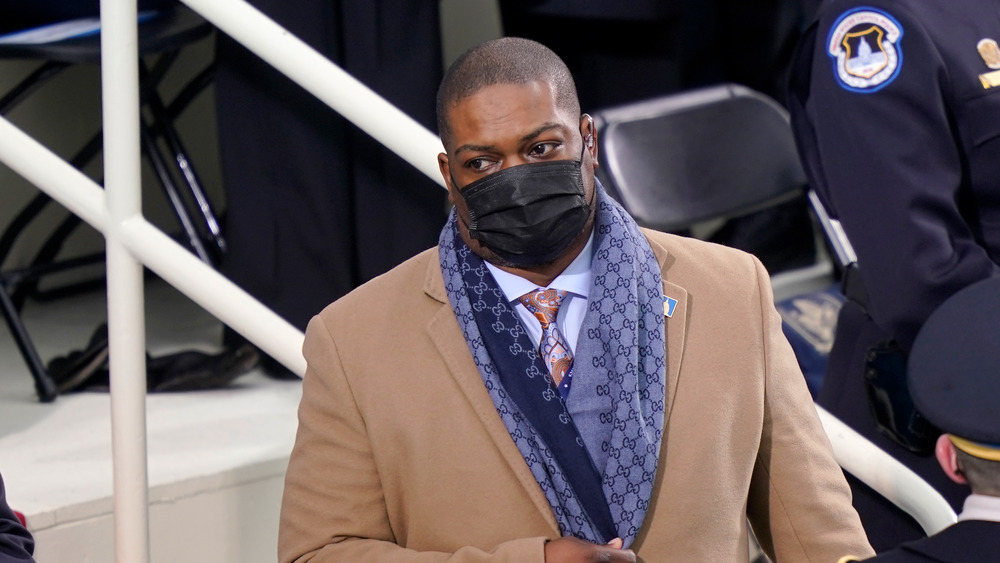 Drew Angerer/Getty Images
The inauguration of the 46th president of the United States of America was a full-circle moment for the country in more ways than one. Two weeks prior, the Capitol building was stormed by angry extremists, summoned by a disgruntled Donald Trump following his loss for reelection. While that horrific day, which left five people dead, will go down in infamy, there is one hero highly regarded for redirecting a mob of angry rioters away from the senate chamber, some of which were looking to get their hands of now-former vice president Mike Pence. 
That hero is Capitol Police Officer Eugene Goodman, who had the privilege of escorting Vice President Kamala Harris, the first female and first person of color and Asian descent to hold the position. Before now-President Joe Biden addressed the nation, Goodman can be seen greeting Harris upon her arrival and escorting her to the inaugural area, per The Hill. 
As Goodman, in his new position as acting deputy House sergeant-at-arms, showed Harris and her husband, Doug Emhoff, the way, he received a round of applause as he entered the ceremony himself, just steps before Harris. Although he was wearing a face mask, Goodman was clearly overwhelmed with emotion. Keep scrolling for more details about Harris' history-making entrance with Goodman.
Officer Goodman's inauguration presence sent a loud message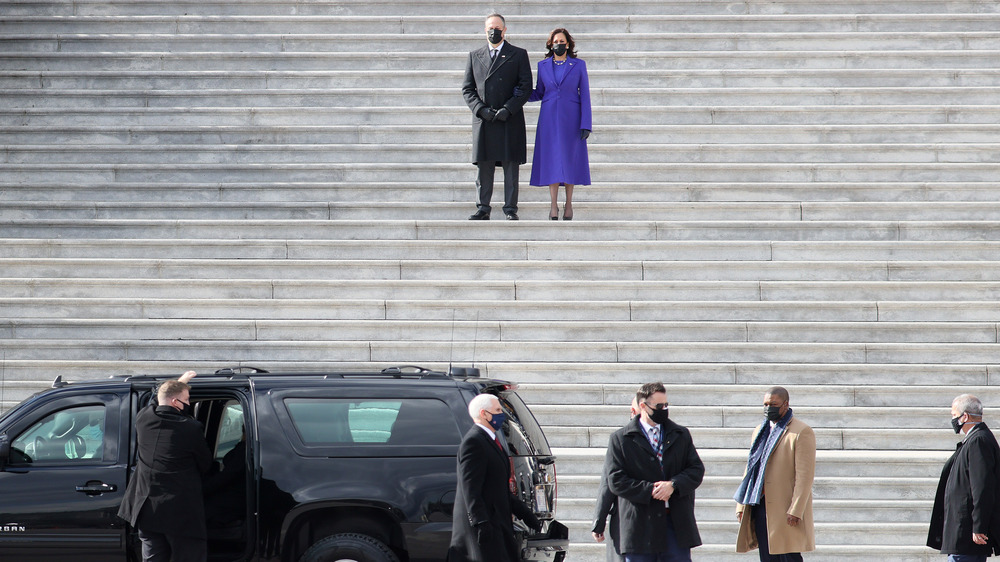 Joe Raedle/Getty Images
Donald and Melania Trump skipped out on passing the baton to Joe Biden and Kamala Harris days after inciting the violence at the United States Capitol. It was thus a poetic moment to see the hero who put an end to the mayhem, Officer Eugene Goodman, greet the new administration, sending a clear sign that violence will not be tolerated, but those who exemplify extraordinary character will be celebrated.
As President Joe Biden addressed the nation in the very spot the riots had taken place, he said "Politics doesn't have to be a raging fire." He highlighted Harris' historic achievement, stating the first women's march took place 108 years ago, and on Jan. 20, 2021, the first woman was declared Vice President of the United States. "Don't tell me things can't change," he said (via The New York Times).
Despite the riots of confederate flag-holding extremists, Inauguration Day reinforced the values of democracy and reaffirmed that skin color is irrelevant to someone's worth. Following Goodman's act of heroism, a bill was introduced to Congress to award him the Congressional Gold Medal. "While some will remember [Jan. 6, 2021] for the very worst in our country, the patriotism and heroics of Officer Eugene Goodman renew my faith and remind us all what truly makes the United States great," representative Charlie Crist said, per The Hill. All around, Biden's inauguration was a powerful moment for the nation.