Ashley Biden's Inauguration Night Outfit Is Causing Quite A Stir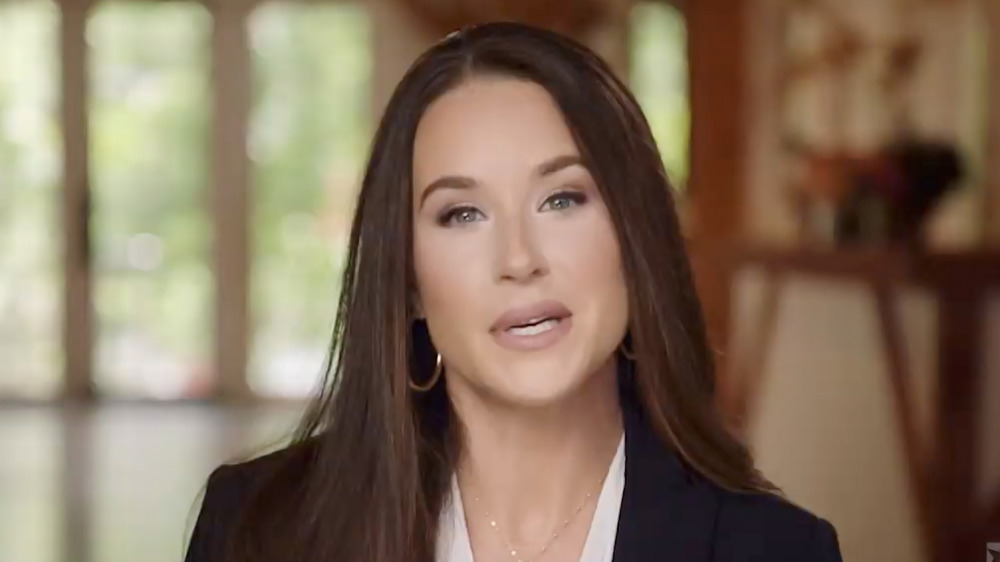 Handout/Getty Images
If President Joe Biden's inauguration foreshadowed what's to come in his next four years in office, it looks like we can expect to see a lot of amazing outfits from the women in his administration and family. Vice President Kamala Harris kicked off the theme of purposeful fashion by wearing a purple coat as she was sworn into office. The color choice was a wink to the women's suffrage moment, which used the colors purple, white, and yellow to symbolize hope, loyalty, and purity, per The Sun. The choice was also in honor of Shirley Chisholm, the first Black woman to run for president, who notably wore purple during her campaign in 1972. Harris wasn't the only notable figure to wear the meaningful color to the event. In fact, Hillary Clinton, Michelle Obama, and Laura Bush were also rocking the shade, per Today.
As the inauguration festivities continued, the meaningful fashion followed suit — or shall we say tux? At the virtual inaugural concert on the evening of Jan. 20, 2021, first daughter Ashley Biden was the one who stole the show with her Ralph Lauren tuxedo. She looked ultra-chic as she paired her look with a loose bowtie and Chloe Gosselin pumps, according to InStyle. Her fashion choice follows the Obama-era tradition of honoring American designers, which first lady Jill Biden's inauguration outfit also reflected. However, Ashley's choice to sport menswear to the event also echoed a similar theme throughout the day of unity and equality for all. Keep scrolling for more details about Ashley Biden's history-making look.
Twitter was loving Ashley Biden's bold statement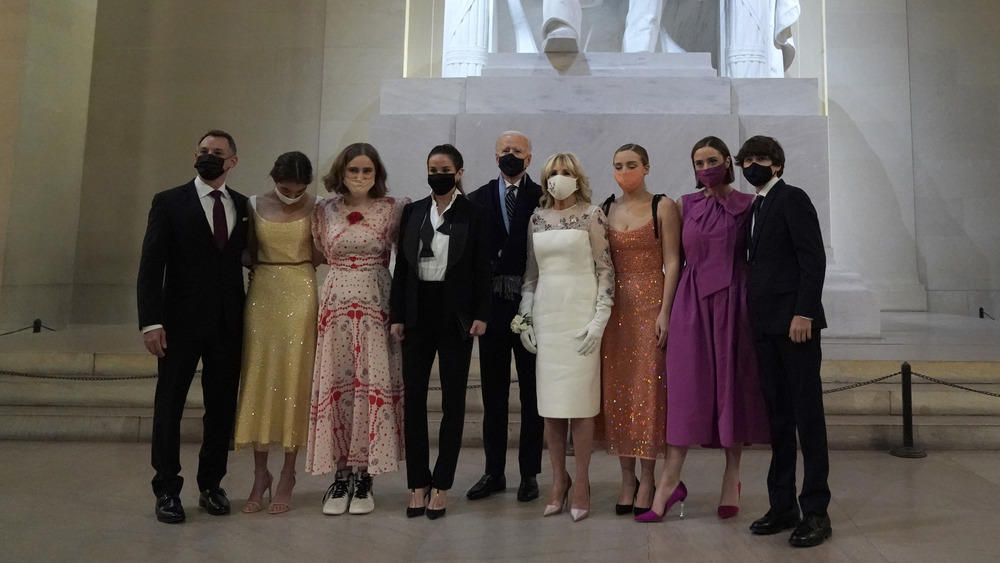 Pool/Getty Images
In inaugurations past, the ladies of the first family have typically donned opulent gowns, like Ivanka Trump's glitzy number in 2016, but Ashley Biden decided to switch things up by wearing a tux. Although some Twitter users pointed out that Melania Trump also wore a tux for the family's 2020 Christmas card, it looks like Ashley is the first to take the bold risk at the prestigious event. 
Luckily, it paid off and Americans couldn't get enough of Ashley's stylish statement. "Still thinking about Ashley Biden's tux. LOVED it!!!!!! Obsessed. Admire people who can pull off that look. I couldn't, but it's one of my favorite looks," one person wrote on Twitter. "Ashley Biden wearing the tux of my decades' long dream," someone else said. Referring to the interview Ashley gave prior to the inauguration about her father's accomplishments, another tweeted, "Ashley Biden is who I want to be. A fox with impeccable style, but mostly because of her dedication to public service, her intellect, her adoration of her family, and her warmth in the interview she gave with Jenna Bush on the today show."
Ashley wasn't the only one who made a fashion statement at the inauguration. Twitter was also quick to notice the trendy Dior x Air Jordan 1 sneakers Meena Harris' husband, Nikolas Ajagu, was rocking, per People. Of course, her daughter's and Harris' grand nieces stole the show when they showed up wearing custom-made coats to replicate a similar one the VP had as a child. So sweet!
The other Bidens had buzzworthy outfits too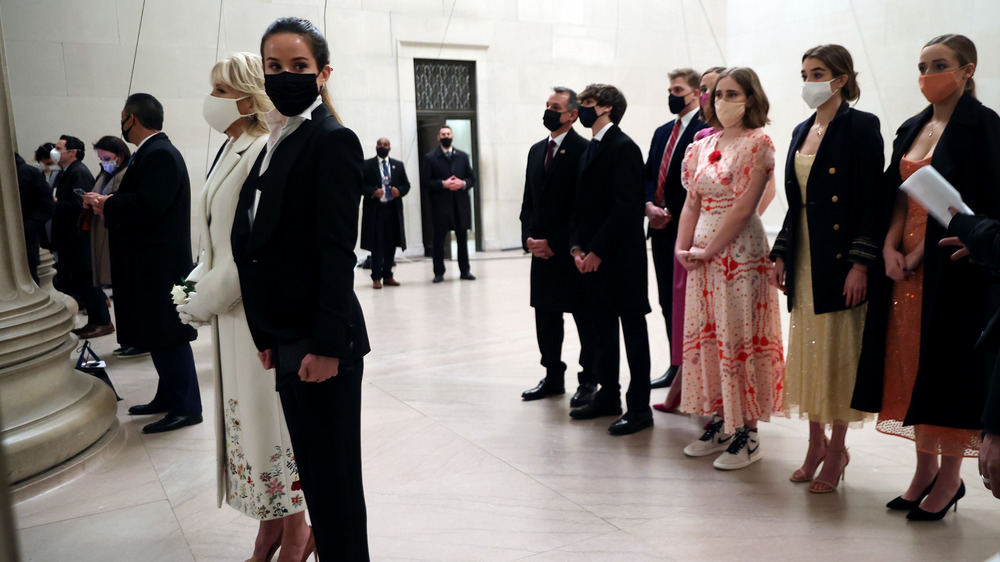 Chip Somodevilla/Getty Images
In addition to Ashley Biden's chic tuxedo, the whole Biden family rocked some impeccable looks. First lady Dr. Jill Biden wore a white midi-length dress with intricate floral embroidery that represented the federal flower from each and every state and territory, per Harper's Bazaar. Each detail on the Gabriela Hearst piece was designed with purpose, including her custom-made white leather gloves and cashmere double-breasted coat.
However, it was the youngest Bidens who really brought their fashion game. Granddaughters Natalie and Finnegan Biden looked stunning in cocktail dresses by American designer Markarian, who also created the first lady's blue outfit earlier in the day. Natalie also wowed in her morning outfit, rocking a pink coat with matching accessories and suede knee-high boots. "ok it's official bright pink gonna be a 2021 fashion trend," one person wrote on Twitter, foreshadowing Natalie as the next first family trendsetter. "Natalie Biden's pink coat/mask/gloves combo will live in my head rent free forever," another person added.
Granddaughter Naomi wore a purple look, continuing the nod to women's suffrage and Shirley Chisholm. As for the Biden lady who looked most high-fashion, the award goes to granddaughter Maisy, who wore a Rodarte cocktail dress with a red and white pattern, paired with Nike high-top sneakers — a fashion risk that paid off, if we say so ourselves! It looks like there will be many more fashion moments to look out for from the first families.