The Truth About Shanna Moakler Joining OnlyFans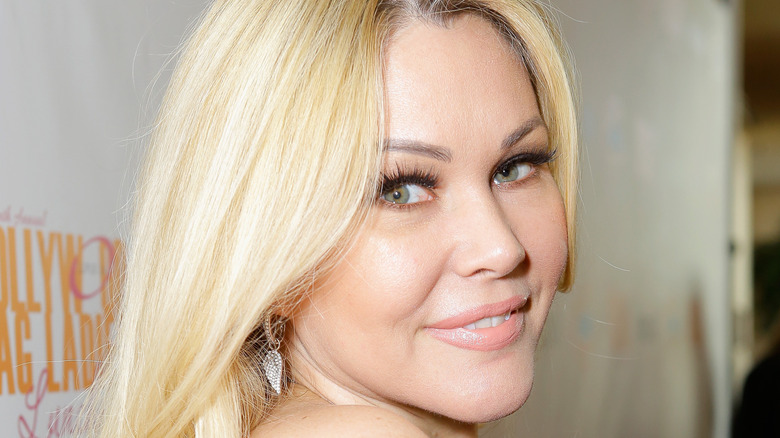 Tiffany Rose/Getty Images
Despite Shanna Moakler's recent drama with her ex-husband Travis Barker and their children amid the drummer's romance with Kourtney Kardashian, the former Playboy model is feeling herself and is ready to get back to her sexy roots. In fact, the mother revealed she is launching an OnlyFans account after being signed to Unruly Agency, and she said she's ready to "have some fun" while dishing on her new endeavor to Page Six on June 2.
However, "I'm not going to get too crazy just yet," she teased to the outlet. "I want to show all different facets of my life, so I'm going to be showing things from me doing yoga, taking people on set, cooking, all things that I like to do that's fun and do it in a sexy fun way."
Although she said she's been contemplating joining the platform for "a really long time," she finally decided to go for it when she realized that laying it all out on the line could help her personal brand. "I'm really staying true to who I am as a person and what I'm comfortable with," she explained of the content her fans can expect. "I'm very comfortable with nudity. I always have been being a former Playmate, being in Maxim ... I'm not trying to get crazy in my career now at my age, but I'm definitely willing to have some fun and make it a great experience for everybody." Keep scrolling for more details and Moakler's OnlyFans announcement.
How do her kids feel about her joining OnlyFans?
Although Shanna Moakler has been open about her strained relationship with her kids following Travis Barker's PDA-filled relationship with Kourtney Kardashian — even telling TMZ, "My family's broken because of this family and now my kids and I are alienated from each other because of another sister in the family," in May — she said her kids are well aware of her latest saucy venture.
"I don't think my kids are going to be on that website at any point in time, but my children do know I'm a former Playboy Playmate," she explained while speaking with Page Six. "We used to spend all our Easters at the Playboy Mansion, and I think there's definitely a way of transitioning your kids into letting them know what kind of content you do do and don't do," she shared. "There [are] thousands of Playmates and there are thousands of Playmates who are mothers, and their kids survive just fine."
Luckily, her boyfriend, Matthew Rondeau, fully supports her new project. "He's amazing. He and I talked about it a lot and I told him I wouldn't do it if he didn't support it, and he's been super supportive," Moakler told the outlet. "He's actually been helping me edit my content and he's tried to help me with pictures I should use. I'm really thankful to have someone who's supportive." Only time will tell if her new gig will add fuel to her family's ongoing drama.