Out Of Every Cardi B Nicki Minaj Diss, One Stands Above The Rest
Dia Dipasupil/Getty Images
Hip hop is all about braggadocio and proving why you're lyrically ahead of the rest, but sometimes it can result in a nasty beef between two rappers. We've seen it play out with a number of rap feuds — Gucci Mane and Jeezy, Biggie and Tupac, Drake and Meek Mill, and many more. While we haven't seen many on the female rap side, the most memorable beefs have often involved Nicki Minaj. In the past, Minaj has been in the center of feuds with rappers Lil Kim and Remy Ma; however, her most prevalent and longstanding feud has been with fellow New Yorker, Cardi B.
When Cardi B emerged onto the scene with her 2017 breakout track, "Bodak Yellow," she received early comparisons to Minaj (via The Sun). Rumors stirred up that the two were at odds at the time, but it seemed to be debunked after a video of Minaj dancing to "Bodak Yellow" in a Miami nightclub surfaced on the internet in July 2017, per Capital Xtra. Weeks later, the "No Frauds" rapper seemed to fire shots at Cardi on a verse on the "No Flag" track: "Lil b***h I heard these labels tryna make another me/Everything you're getting little h*e is because of me." Some believed it was a dig at the Bronx rapper, who signed to Atlantic Records days before the song's release. Minaj later clarified that the line wasn't about the "Up" rapper, tweeting that the song was written a couple of months before Cardi's signing.
A couple of shady comments and subliminal lyrics later, Nicki Minaj and Cardi B's beef reached its peak in a moment that stands above the rest.
What really happened between Cardi B and Nicki Minaj at 2018 New York Fashion Week?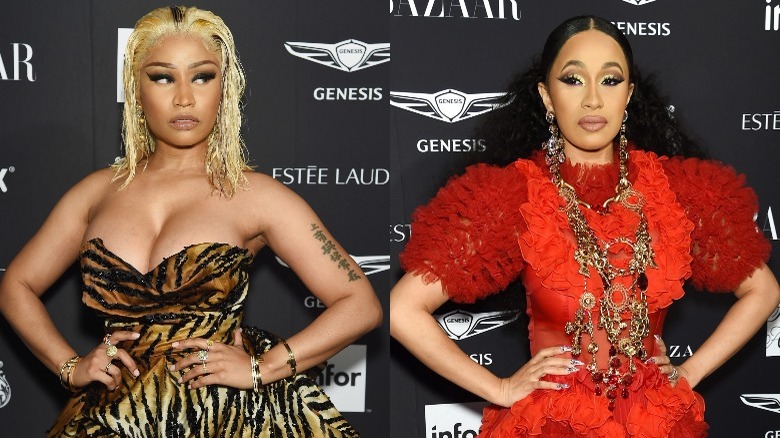 Dimitrios Kambouris & Dimitrios Kambouris/Getty
After publicly denying any drama between them, Cardi B and Nicki Minaj's rumored feud seemed to be too hard and too real to ignore. When Atlanta trio Migos dropped their "Motorsport" track featuring the two rappers, many believed that Cardi and Minaj were throwing shots at one another in their verses. Again, they both denied having beef with one another. "I feel like people just want that drama because it's entertaining," Cardi told Complex at the time. Minaj took to Twitter to urge the public to "let it go" (via Billboard).
Fast forward to September 2018, things took a turn for the worst. It was reported that the New York natives got into a major brawl at a New York Fashion Week party hosted by Harper's Bazaar. According to a witness, the "Invasion of Privacy" rapper allegedly approached Minaj about her "spreading lies," when a scuffle broke out and the latter's security intervened. Cardi reportedly threw a shoe and threw it in Minaj's direction before being escorted by security. In a leaked video, Cardi is seen walking barefoot and injured by her temple.
Shortly after, Minaj revealed on "Queen Radio" that it was her friend, "Love & Hip-Hop" alum Rah Ali, who got into the fight that night. "Rah beat Cardi's a** really bad," she said (via NME). "The punches were so hard in your head. Rah beat you so bad that I was mad at Rah. She punched her eight, nine times." Believe it or not, the drama didn't even stop there.
Nicki Minaj threw major shade at Cardi B with her merchandise drop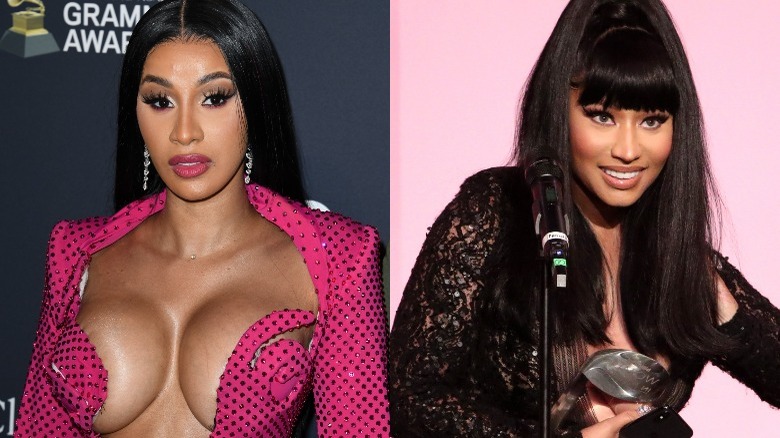 Rich Fury & Jon Kopaloff/Getty
Following the buzzworthy New York Fashion Week debacle, Cardi B took to Instagram to address the drama that occurred. In a fiery rant speculated to be directed at Nicki Minaj, she wrote, "I let you talk big s**t about me!!," she wrote in September 2018 (via Billboard). "I addressed you once in person, I addressed you a second time in person, and every time you copped the plea!! But when you mention my child, you choose to like comments about me as a mother, make comments about my abilities to take care of my daughter is when all bets are f****n off!! I've worked to hard and come too far to let anybody f**k with my success!!!! B*****s talk all that s**t in they raps but in real life they p***y!! This s**t really is for entertainment!!"
The following month, Minaj took matters into her own hands by responding in a quite petty way: dropping merchandise that reads, "Nicki stopped my bag." The rapper shared photos of a pink backpack, as well as shirts and jackets that have the verbiage written across it. While it made good content for headlines, the move is also regarded as one of Minaj's most memorable clapbacks that is still referenced years later. One Twitter user wrote in July 2021, "Y'all remember when nick put out that "Nicki Stopped My Bag" Merch ? To f****n funny I love her." Another tweeted, "Nicki Minaj dropping that "Nicki Stopped My Bag" merch was ingenious. But wow, what a moment." Indeed it was. Although Cardi and Minaj have yet to update us on the status of their relationship, it's quite hard not to be reminded of the bag-stopping, shoe-throwing feud between them.