Kim Kardashian Has A Huge New Dream For Her Future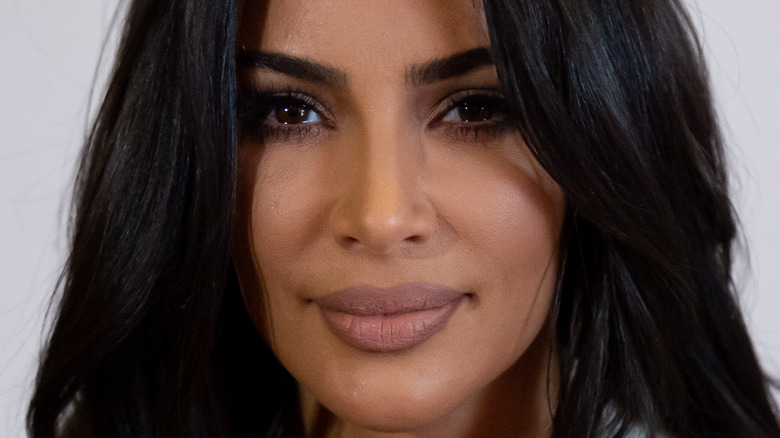 Asatur Yesayants/Shutterstock
Kim Kardashian has had a lot going on in her personal and professional life over the past few years. As fans know, the reality star called it quits with husband Kanye "Ye" West in 2021, and the two have gone through a very public divorce. Kim also formed an unlikely romance with "Saturday Night Live" star Pete Davidson, which has caused plenty of drama between Kim and Ye.
Ye has made several Instagram posts against Davidson, including one in March where he shared an old headline about Davidson making a crude joke about a baby. "Yet another reason why SKETE gotta stay away from my children Oh and nobody noticed that he ain't show up to SNL Because Mr. I can help you with meds had a mental breakdown after we ran him off the internet," Ye wrote in the scathing caption. The rapper has since wiped his Instagram account clean of all posts — something he has a habit of doing. Instagram also blocked Ye from the platform for 24 hours for constant bullying of Davidson, along with Trevor Noah, and D.L. Hughley. Ouch. 
While Ye has been making headlines for all the wrong reasons, that hasn't stopped Kim and Davidson from being happy in their romance. In March, Kim shared a photo of herself and the funny man, and when you make a public post on Instagram, you know the relationship is officially official. The reality star is also looking to make another giant leap in her life — but this time, career-wise.
Kim Kardashian wants to open a law firm
Kathy Hutchins/Shutterstock
Kim Kardashian plays several roles in her every day, including that of a mom, business owner, and reality star. However, there's one role in life that she hopes to start taking much more seriously: lawyer. The mother of four sat down for an interview with Vogue Hong Kong, where she talked about a wide range of topics, including her aspirations. "I dream of one day creating a successful law firm," she told the outlet. Of course, Kim's father Robert Kardashian was a famous lawyer, and she wants to follow in his footsteps.
In fact, the star added that her father significantly influenced her new career path. "Absolutely – spending time with my father at his office definitely influenced me. Doing this work has been in my soul for years and I'm so proud that I'm now doing this work," she shared. "When I look back at old interviews, when people asked what I wanted to do if I wasn't filming KUWTK, I always said I wanted to be a crime scene investigator or an attorney." Kim also added that being a lawyer makes her feel closer to her father. In December 2021, Kim passed the baby bar, which was a huge accomplishment. 
Many people have been supportive of Kim's dream, including boyfriend Pete Davidson. In fact, Davidson even got inked with a tattoo that reads "My Girl is a Lawyer." Now that's what we call true love.