Are Taylor Swift And Cara Delevingne Still Friends?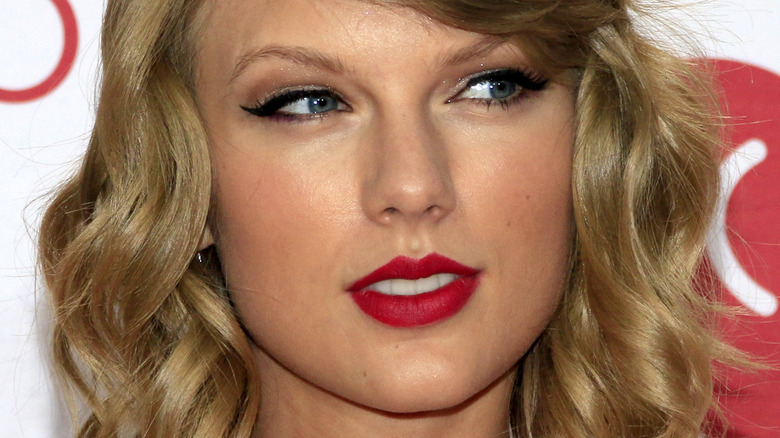 Kathy Hutchins/Shutterstock
Once upon a time in the mid-2010s, it was near-impossible to escape Taylor Swift's legendary squad of celebrity friends. From incredible get-togethers splashed across the respective members' social media profiles, to the epic "Bad Blood" music video which featured several of the A-list ladies, the squad was just about everywhere we looked.
Among the squad members was none other than Cara Delevingne, and she played an integral role in keeping the group entertained. On a 2016 episode of "The Late Late Show with James Corden," Delevingne recounted an occasion where she recruited Ruby Rose and Uzo Aduba to prank Kesha and the Haim sisters at Swift's Rhode Island pad. Explaining that Swift wasn't necessarily part of the prank, she was certainly aware of it — "[We] told Taylor and Tom [Hiddleston, Swift's ex] because security is massive" — and she didn't stop the prank, either. "Taylor and Tom ... came upstairs, and Uzo was in the corner with a light in her hand, holding a speaker; I was throwing myself on the floor punching things ... and, like, screaming, and they were like, 'Okay, we're just going to walk back downstairs.'" Delevingne also proved to be the life of the party when she joined Swift on stage at a 2015 concert in Philadelphia, per People. 
A few years on, many have asked if the group is still as tight. Swift's friendship with Karlie Kloss, in particular, has been questioned. But what about her friendship with party-loving prankster, Delevingne? 
Cara Delevingne is super supportive of Taylor Swift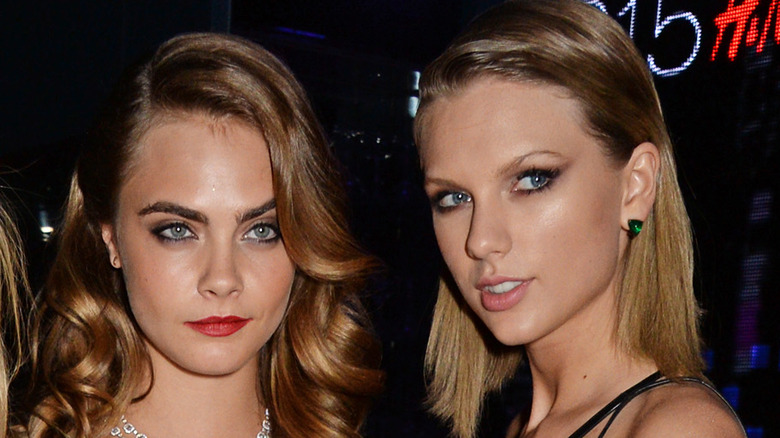 Karlie Kloss has had to set the record straight about her friendship with Taylor Swift after a number of little hints suggested all was not well between them. However, when it comes to Cara Delevingne, her friendship with the "Look What You Made Me Do" singer appears never to have waned. In fact, the model — who has told Variety she and Swift lived together for a time, and is also so close with Swift's longtime best friend, Selena Gomez, that they have matching tattoos — has been incredibly supportive of the singer over the years.
In 2019, Delevingne gushed over Swift's "You Need to Calm Down." Speaking to Variety about the song, she shared, "What [Taylor] is doing is brilliant." The "Valerian and the City of a Thousand Planets" star also applauded her friend for being so vocal about her support for the LGBTQIA+ community on the track. Delevingne, who has been open about her own sexuality, also shared that she had been so moved by the supportive message that she "cried" when she first heard the song. 
More recently, Delevingne also showed her support for Swift's "Folklore" album launch in 2020. In an image posted to fellow supermodel Kaia Gerber's Instagram Story, Delevingne and Cindy Crawford's daughter posed together in one of Swift's promotional cardigans (via Page Six). 
Cara is unbelievably loyal to Taylor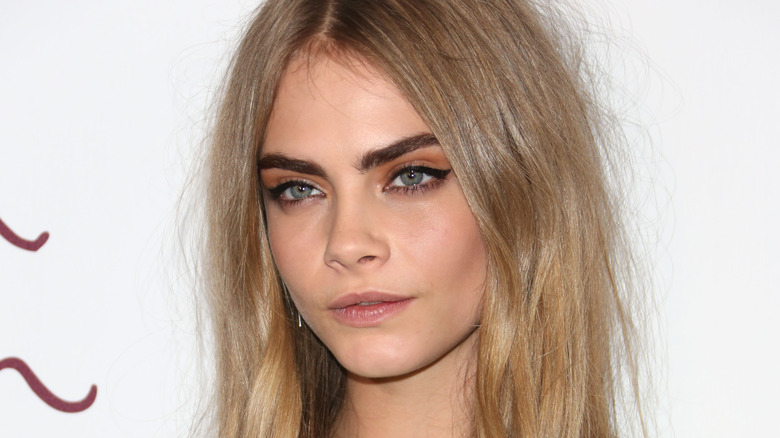 Featureflash Photo Agency/Shutterstock
Cara Delevingne's support for Taylor Swift is the stuff of genuine sisterhood, and it hasn't gone unnoticed by the singer. Quite the contrary, as in a 2020 Variety piece on Delevingne, Swift was quick to sing her friend's praises and to highlight her loyalty. "Cara is extreme, eccentric, hilarious, loving, and deeply loyal," she shared. 
It's possible that Swift's characterization of Delevingne as loyal was cemented in 2019. In the wake of Scooter Braun purchasing Swift's masters against her will, and Justin Bieber shortly thereafter defending Braun in an open letter posted to Instagram, Delevingne leapt to her friend's defense. Per screenshots published by Teen Vogue, Delevingne blasted Bieber's post. "I wish you spent less time sticking up for men and more time trying to understand women and respecting their valid reactions," the model wrote. "Take a step back and try and learn from this. We should all be on the same team. End of story." However, Delevingne's spicy response was just the beginning. After her comment went missing from Bieber's post, she shared a screenshot of the exchange to her Instagram Stories, along with the caption, "love you @taylorswift." 
Given that Swift has described her friend to Variety as, "profoundly sensitive," Delevingne's quick, no-nonsense response to the attack on the singer only makes sense. Delevingne is clearly one friend anyone would want in their corner — and luckily for Swift, that seems to be the case!