Kourtney Kardashian's Presidential Endorsement Is Causing A Stir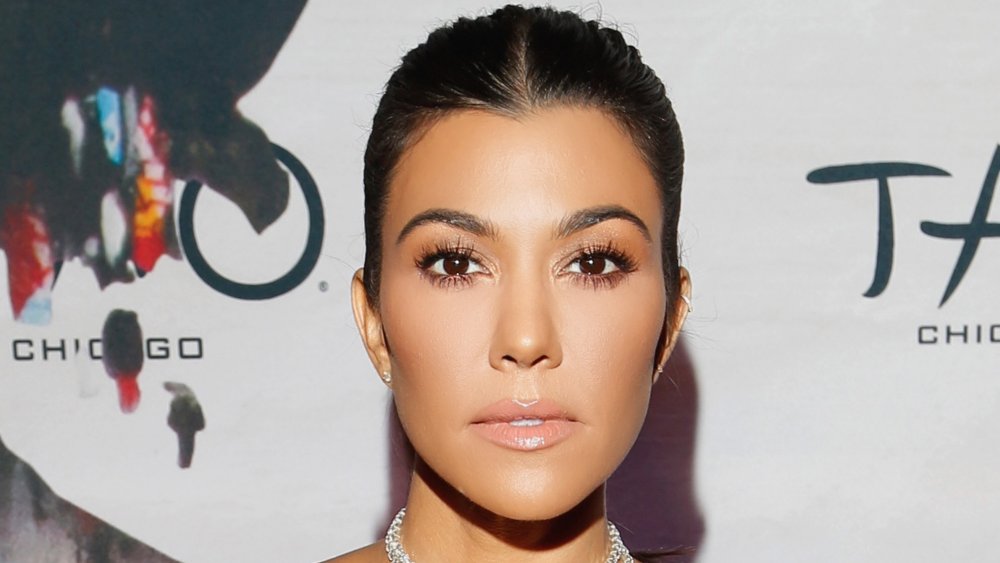 Jeff Schear/Getty Images
Kourtney Kardashian apparently thinks one presidential candidate is "Stronger" than the rest. Even though nearly 20 million Americans have voted early in the 2020 presidential election (via CNN), the Keeping Up with the Kardashians star is keeping up her allegiance to brother-in-law Kanye West. 
Ahead of the Nov. 3, 2020 election, Kourtney posted a selfie to her Instagram stories, per OK! Magazine, striking a pose and rocking a "Vote Kanye" hat. She then linked to the rapper's campaign web store. West announced on Twitter on July 4, 2020 that he was running for president, which has since caused quite a stir and marital strain with wife Kim Kardashian — with the couple even living fully apart for a year. Yikes. Days earlier, Kourtney also retweeted West's faith-based campaign video on Twitter. "we stepping out on faith," he wrote. 
According to TMZ, Kourtney Kardashian's endorsement has frustrated fans who feel someone with 102 million followers on Instagram should be supporting one of the two major-party candidates: Joe Biden or President Donald Trump. Especially since West's chances of winning, and not just distracting, are a "Beautiful Dark Twisted Fantasy." According to The Daily Mail, West's name is on the ballot in only 11 states, and interestingly, he appears on the California ballot as a vice-presidential candidate, according to BET. Huh. Meanwhile, Kim has not endorsed her husband but has urged people to vote. Here's how the internet has reacted (hint: not well!) to Kourtney's selfie. 
Kourtney Kardashian is getting serious backlash for her political selfie
The internet has erupted as Kourtney Kardashian has stood by Kanye West's presidential run. "Kourtney Kardashian thinks it's cute and funny that Kanye is meddling with our election. She knows her kids will suffer none of the consequences of this election," one Twitter user shared. "So Kourtney Kardashian is a Republican and active Kanye voter it seems? Disgusting," wrote another, implying Kanye West's run has mainly been to benefit the Republican party. "@kanyewest and @kourtneykardash Disgusting absolutely not," said a third. 
That said, some Twitter users have expressed support for the rapper's run. "Legitimately the best presidential platform I've seen so far. This country needs this kind of scripture inspired common sense faith based leadership more than anything else," one user wrote, praising (no pun intended) West's embrace of all things religion. Hmm. 
How sad 2 c that U support Kanye.A vote 4 him is a vote 4 Trump.I thought U may b the only Kar-Jenner that had some intelligence.I was wrong!U must b enjoying the enormous tax breaks & stimulus checks.U r a multimillionaire w/out a conscience! How sad 4 your children,& your soul! pic.twitter.com/eWoK0DzMNd

— Social Media Guru (@guru_medi) October 16, 2020
Meanwhile, West's run may ultimately do more harm than good. Back in July 2020, Kanye brought up at his tearful rally that he and wife Kim Kardashian were at one point considering an abortion when they were pregnant with North West. Kim eventually addressed her husband's behavior with a statement on her Instagram Story, and West has since apologized. Then, on July 27, 2020, there were the infamous photos of the pair meeting in Wyoming to allegedly discuss their marriage. Though the couple is now "on the mend," according to TMZ, it seems as if West's presidential run has done little more than cause headaches. 
Kourtney Kardashian encouraged her followers to buy Kanye West's campaign merch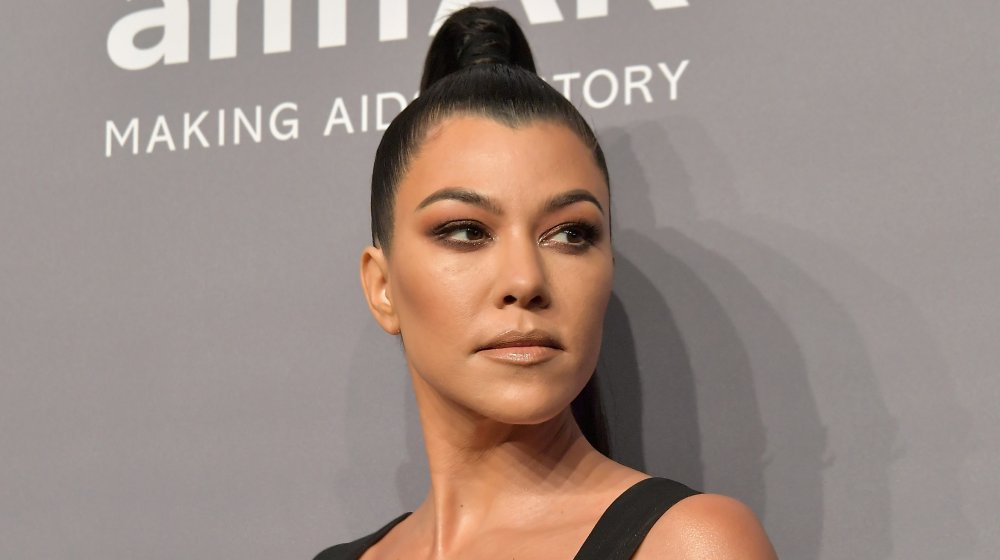 Michael Loccisano/Getty Images
Meanwhile, Kourtney Kardashian's support for Kanye West apparently went further than just the hat-wearing. On Oct. 15, 2020, according to Entertainment Tonight, the star also posted an additional Instagram story that included a "swipe up" option, leading her more than 100 million followers to an article on her lifestyle website POOSH. The article, titled "Where to Buy the Best Voter Merch," included a $160 Kanye hoodie and another link to West's campaign website. "[S]hop more Kanye merch," the post encouraged. In other words, the reality star has now endorsed Kanye on three separate platforms. Oy.
Ultimately, according to ET, it appears Kourtney is the only member of the Kardashian-Jenner family to publicly endorse Kanye. And while wife Kim Kardashian has far from supported Kanye's political run, she is back to supporting him musically. According to Complex, when Kanye took home four Billboard Music Awards earlier this week, the star tweeted out four microphone emojis. It's a start!
That said, Kanye probably won't "Touch The Sky" in the polls. According to People, he currently has a "fraction" of the votes previous third-party candidates like Gary Johnson had, though he is still urging voters to write him in on ballots in states where he didn't qualify. And given Donald Trump's razor-thin margin of victory in 2016, and Kanye's not-so-secret motive to detract votes from Joe Biden in an effort to help Trump — "I'm not denying it; I just told you," he told Forbes — Kanye might be meddling with the election on purpose. And if so, Kourtney isn't helping matters whatsoever.