Britney Spears' Ex-Husband Rips Apart Her Engagement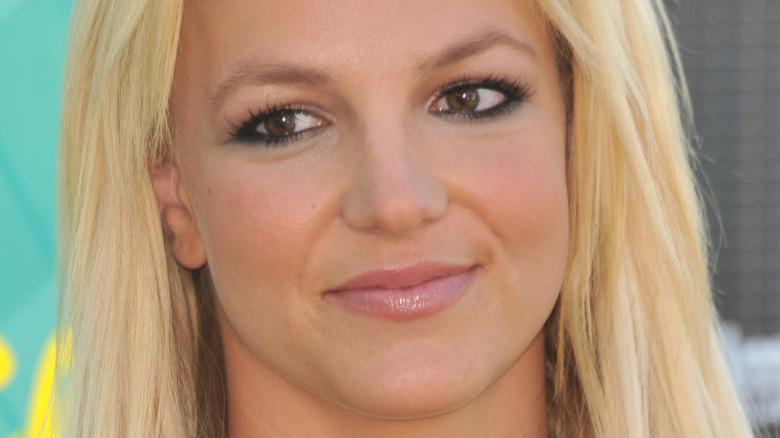 Jaguar PS/Shutterstock
Cast your mind back to 2004. A young Britney Spears is in Las Vegas in a black crop top, ripped jeans, and a baseball cap and she just got married in a white chapel to her childhood sweetheart from Louisiana, Jason Alexander, in a marriage that would last only 55 hours (via Today). Okay. Now fast-forward 17 years (and skip over another wedding and another engagement) and Spears is engaged again, this time to model and personal trainer, Sam Asghari. Now, prepare for those two things to collide.
Spears confirmed the exciting news that she and her longtime boyfriend will be walking down the aisle in a sweet Instagram upload on September 12, which showed her flashing her huge diamond ring (which is estimated to be worth $70,000, by the way) as Asghari stood beside her. "I can't f**king believe it !!!!!!" she captioned the video upload with six ring emoji and a red heart (per USA Today), before announcing on Twitter on September 14 she'd temporarily disabled her account to focus on her engagement.
The big news, of course, had everyone talking, but it wasn't just Spears' fans and a few famous faces gossiping about the proposal and urging her to get a prenup – we're looking at you, Octavia Spencer. It turns out the first former husband himself has a little something to say about it too, and the happy couple may want to cover their ears for this one.
Jason Alexander thinks Britney Spears' engagement to Sam Asghari isn't real
Britney Spears' first ex-husband, Jason Alexander, isn't convinced by his former wife's engagement to Sam Asghari and he's not exactly being quiet about it. Alexander sat down with "Inside Edition" on September 14 to chat about Spears' news, telling the outlet, "If it's real, it's awesome." When asked if he thought Asghari popping the question was "real," he then replied, "No." Yikes!
Though it's not clear exactly why Spears' ex doesn't believe what he's seeing, he's claimed on more than one occasion to still be in touch with the pop superstar and even said he'd supposedly spoken to her on the way to the interview. He shared an update on how she's doing amid her ongoing conservatorship battle, saying, "She's good, she's mentally stable, she's fine," but couldn't get the star on the phone during the interview.
As for what Alexander thinks of Asghari? Well, it sounds like he's not necessarily his biggest fan. Alexander told the outlet, "[Asghari is] really the only person that's been around for a few years, so without him she would've been alone," adding that he was "trying to be nice" about his ex-wife's boyfriend.
Alexander also made it pretty clear he still has feelings for Spears all these years after their infamous Vegas wedding. "I've always loved her. I'm always going to love her. If she's happy with Sam and that's going to happen, I'm happy for her," he said.
Britney Spears and Jason Alexander have a rocky past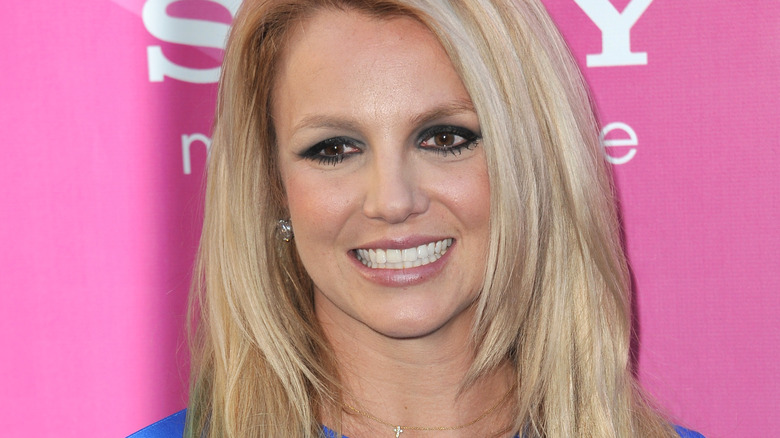 Jaguar PS/Shutterstock
Jason Alexander's comments about Britney Spears' engagement are far from the first time he's spoken out about his ex in the wake of their 2004 wedding, after which a judge claimed Spears "lacked understanding of her actions to the extent that she was incapable of agreeing to the marriage" (via Today). Spears' attorney added in a statement, "There is no marriage now. Jason agreed to this completely. They've made a wise decision. I know they care about each other. They are friends." 
Alexander appeared to dispute those claims in July, alleging he was duped into signing the annulment papers. "They told me if I would sign... the annulment they would let me and Britney continue our relationship, and if we felt the same way in six months, they would give us a proper marriage. So I had no reason to believe otherwise," he claimed on the "Toxic: The Britney Spears Story" podcast.
Alexander has also been a vocal supporter of the #FreeBritney movement amid her controversial conservatorship. In August 2020, he was photographed at a rally and told Us Weekly he was interested in reconciling with his former flame. "I'd love to be back in her life some way or another, but this conservatorship is holding that back from happening. We never were given a shot the first time around," he said. 
Well, we think Sam Asghari might have a little something to say about that...