The Truth About The Bachelor's Peter Weber's Betrayal Of His Ex Calee Lutes
Even Bachelor stars as seemingly innocent as Peter Weber have a few skeletons hiding in their closet. After his appearance on Hannah Brown's season of The Bachelorette aired, the hunk better known as "Pilot Pete" was put on the spot by his ex-girlfriend, Calee Lutes, who told Entertainment Tonight that he was not on the show for the right reasons — shocker. 
Among other things, Lutes said that Weber lied to her by pretending they had a future together, and then dumping her to go on the show. "We were very serious," Lutes told ET in July 2019. "He told me he loved me for the first time in October, and we talked almost every time we saw each other about how we were going to make it last long term."
"He absolutely betrayed me," she added. "He interviewed for a reality dating show while simultaneously planning a future with me. I trusted him entirely, and he pulled the rug out from under me."
No one believed Peter Weber's ex
At the time that Calee Lutes made the explosive claims against Peter Weber, fans could only see the good in the seemingly sweet pilot. Needless to say, not many people in Bachelor Nation truly believed Lutes. However, when Weber ended his dramatic season of The Bachelor by proposing to Hannah Ann Sluss before breaking her heart and getting into a bizarre fight with his mom over his love for Madison Prewett, many viewers realized Lutes may have been right about him all along. "You were right about Peter telling women what they want to hear," one fan reportedly wrote on Instagram (via Cheat Sheet) — similar comments followed.
Weber didn't really address his relationship with Lutes on the reality show. However, on Hannah Brown's season he did say that he dated someone before the series, but it just didn't work out. "Yes, I'm sure he was talking about me. Things didn't work out simply because he chose to go on The Bachelorette instead," Lutes told Entertainment Tonight.
Peter Weber is sorry -- kind of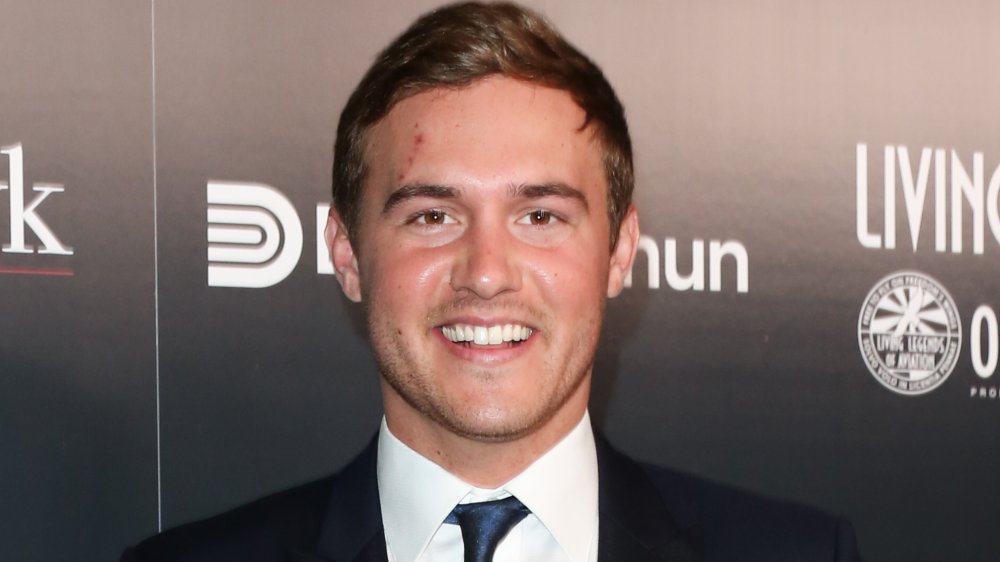 Paul Archuleta/Getty Images
Peter Weber has never truly spoken out about what happened with ex-girlfriend Calee Lutes, whom he dated for five months before falling head over heels for Hannah Brown. That being said, he is the first to admit that he messed up on his season of The Bachelor. During the two-night finale, Weber told Hannah Ann Sluss that he did selfishly deceive her because he though he could commit to her, but, in the end, his love for Madison Prewett was just too strong (via Vulture). 
"I never intended to give my heart to two people," he told Sluss in a pre-taped segment of the finale (via Deadline). "I want so badly to be able to give you everything, give you my entire heart because that's what you do to me and that's everything you deserve, and I can't do that. I'm so sorry."
As fans know, after all that drama, Weber is still single — though he has been spending a lot of time with Bachelor contestant Kelley Flanagan post-show (via People). "He definitely didn't go on the show for the right reasons," Lutes told Entertainment Tonight in 2019. "I believe he went on it for the chance at fame, and he got what he wanted." Yikes.