Taylor Swift Fans Think This Evermore Lyric Was A Reference To Cats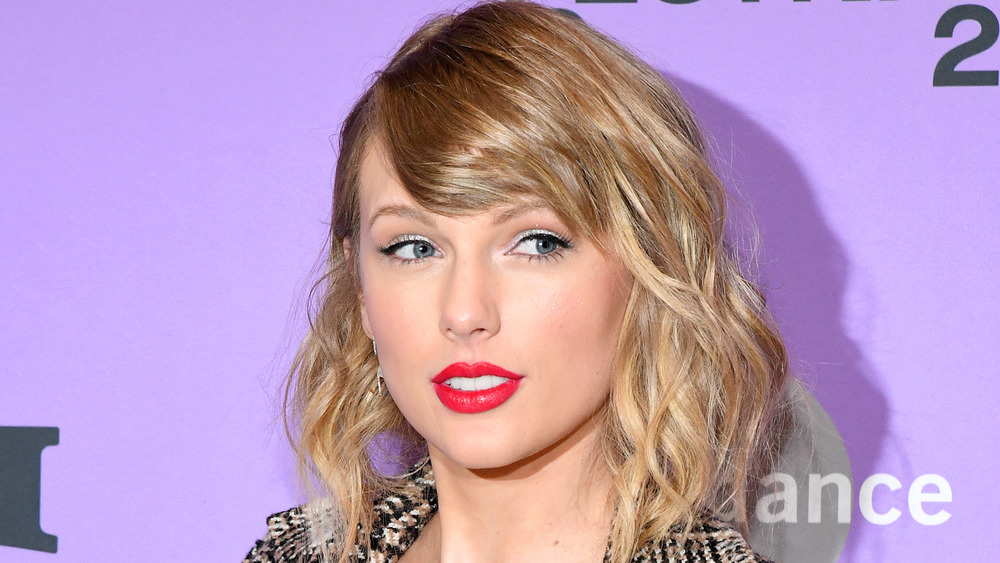 Kevin Mazur/Getty Images
On Dec. 11, 2020, Taylor Swift shocked and delighted fans for the second time in 2020 by unleashing yet another surprise album, Evermore. The "sister album" to her eighth studio album Folklore – as Swift described in her poetic (if Thoreau-like) Instagram announcement – Evermore sees the pop superstar venturing further into the enchanted, frosty woods evoked on her stellar earlier release. With songs like "Willow" and "Dorothea", Swift clearly had more folktales to tell and myths to weave and fans are loving it, especially since Evermore's 17 tracks contain more hidden Easter eggs than the White House Great Lawn in April.
Dropping multilayered lyrical clues is Swift's "Style" — she even gave boyfriend Joe Alwyn a mysterious and clue-riddled pen name on Folklore — but this is next level. Tay Tay leaves no stone unturned and no feud left unacknowledged in her music, and as fans continue obsessing over Evermore, some think one lyric even references ... Cats? To jog your "Memory," in 2019, Swift starred alongside Jennifer Hudson and James Corden in the live-action remake of the musical Cats, which was all but clawed by critics for its nausea-inducing CGI graphics. With a Rotten Tomatoes rating that puts the "ow" in "meow," Cats has basically become an internet scratching post. 
Puns aside, it was rough. And some fans thinks Swift referenced the film on Evermore. That'd be an audacious call-back even for Swift, but still, it's possible! Scroll down for the Evermore lyric Swifties are linking to Cats.
Taylor Swift's 'motion capture' lyric is getting noticed by fans
So, what is the Taylor Swift Evermore lyric fans are connecting to Cats? It comes during the opening lines of her duet with Bon Iver's Justin Vernon on the title track "Evermore", which comes at the end of the album. Swift sings, "Motion capture/ Put me in a bad light." She continues, "I replay my footsteps on each stepping stone/Trying to find the one where I went wrong." Hmm...
At first glance, the lyric, which "has already drawn attention," per The Independent, might reference the video Kim Kardashian released of Kanye West and Swift's infamous phone conversation back in 2016. However, per Central Casting, "motion capture" is "a process in which an actor's performance is captured and then used to create a CGI character." This technique was used, perhaps not fantastically, for Cats. 
As fans have noted, she might be referring to her feline critical flop. "In the Taylor Swift song 'evermore' she sings the lyrics 'motion capture put me in a bad light.' Here she is clearly referring to her role in CATS (2019). In this essay I will...," one person tweeted. "Did Taylor Swift write the line "motion capture put me in a bad light" about Cats (2019) pls discuss," another wrote. 
In the 2019 Andrew Lloyd Webber adaptation, Swift played Bombalurina, a henchwoman cat who assisted – and sung about – the film's villain Macavity (Idris Elba). It seems Taylor Swift, as always, will have the final word (or lyric) on the matter.