Source Reveals Why Chris Rock May Never Forgive Will Smith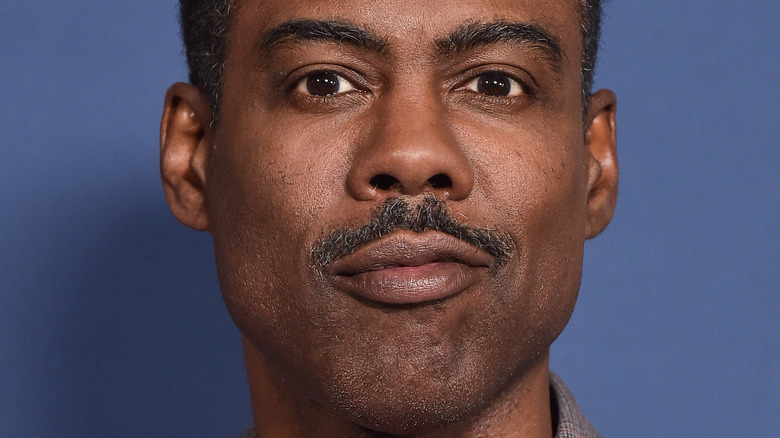 DFree/Shutterstock
There's no doubt that #SlapGate is one of the most talked-about incidents of the year. When most people typically think of Oscars night, they think of old Hollywood glitz and glamour. However, the 2022 Oscar awards will forever be remembered for the incident between Will Smith and comedian Chris Rock. After Rock compared Will's wife Jada Pinkett Smith to G.I. Jane, Will stormed the stage and slapped him across the face. Celebrities in attendance looked on in surprise, and Nicole Kidman's shocked look proved to be the meme of the evening.
Since the slap heard round the world, Will has felt plenty of repercussions. While he did take home the Oscar for his performance in "King Richard" just moments after the incident, it took Will a full day to apologize to Rock. "I would like to publicly apologize to you, Chris. I was out of line and I was wrong," he wrote on Instagram. "I am embarrassed and my actions were not indicative of the man I want to be. There is no place for violence in a world of love and kindness." After they launched an investigation against the "Independence Day" star, Will also resigned from the Academy.
Initially, Rock remained tight-lipped, and during his first show back, he told fans that he would talk about the scandal when he was ready. A few nights later, Rock played a show in Jersey City, which is close to Will's hometown of Philadelphia, so he cracked a few jokes about that. However, Rock may never fully forgive Will.
Chris Rock reportedly 'can't imagine' forgiving Will Smith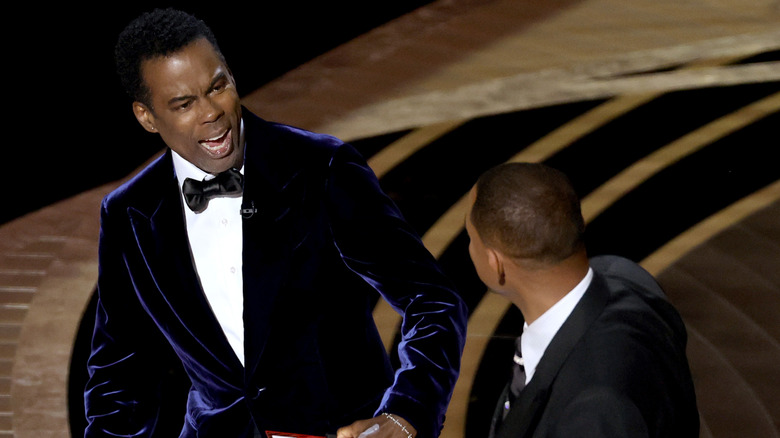 Neilson Barnard/Getty Images
Will Chris Rock ever forgive Will Smith for the slap at the Oscars? Some people don't think so. While the comedian declined to file charges against him, that doesn't necessarily mean that everything is kosher between the pair. An insider revealed to Hollywood Life that Rock is still pretty shaken over the events that transpired. "He can't imagine forgiving Will, being friends with him. It is just a very weird thing to fully envelope," the insider snitched. Rock also feels like it left a stain on his career that he won't ever forget. "Chris Rock doesn't want the Will Smith slap to define him and the rest of his career. It sucks that it is now part of his life forever," the same insider revealed.
The source also shared that Rock is absorbing everything, and his main focus remains on his comedy tour. "It is still raw, emotional, and confusing to deal with and wrap his head around," the insider shared. Even though Rock has not talked about the incident much, his brother, Tony, has taken to Twitter to express his feelings about it. In the days after the events transpired on stage, Tony answered a few fan questions online and revealed that he didn't believe Will's apology.
One of Rock's five brothers, Kenny, also spoke about the incident, stating that he's been having a tough time watching his brother go through it. They say time heals all, but maybe not in this case.
Will Smith was reportedly still mad over a 2016 joke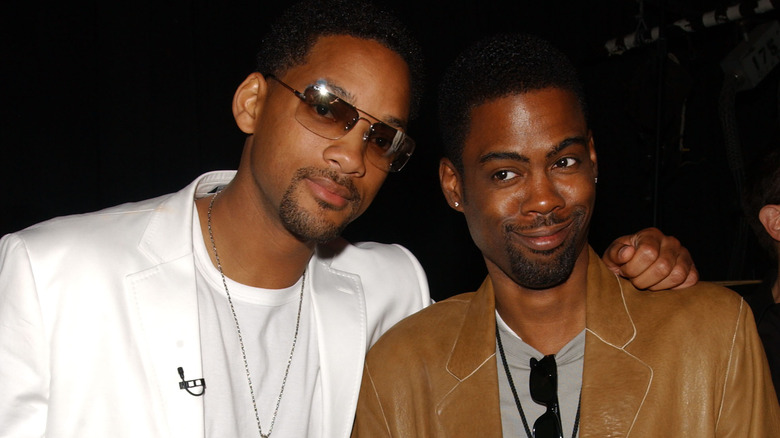 Frank Micelotta Archive/Getty Images
The infamous slap that marked the 2022 Oscars was undoubtedly the most tense moment in the relationship between Chris Rock and Will Smith, who have known each other since their days on "The Fresh Prince of Bel-Air," Today noted. But it wasn't the only one or the first. Rock had taken a jab at Jada Pinkett Smith back in 2016 when she and Will, along with other prominent Black figures in the film industry, skipped the Oscars to protest its lack of diversity, a movement that went viral under the hashtag #OscarsSoWhite, according to CNN.
As the host, Rock appeared to dismiss Jada's actions by diminishing her relevance. "Jada boycotting the Oscars is like me boycotting Rihanna's panties," Rock said in his opening speech at that year's ceremony. "I wasn't invited." The comedian then seemingly questioned Jada's commitment to the cause when he contended she had actually skipped the ceremony because Will hadn't been nominated for the 2015 football film "Concussion."
Will had a vastly different reaction back then. When asked by paparazzi about Rock's remarks, Will simply smiled and threw a peace sign before entering a car, E! News reported. That doesn't mean he wasn't insulted. In fact, Rock's joke at his wife's expense was still fresh on Will's mind when he smacked the comedian, a source told People in March. "[Rock] made fun of her, saying she can't boycott something she wasn't invited to," the insider explained. "Will was still mad about that."